Donald Trump's spell checker, hired shortly after Trump's inauguration to revamp the President's media strategy, suddenly resigned last night.
"The reasons for my departure are personal," wrote the spell checker, "but it has been my great honor to serve President Trump and his administration. It has also been my distinct pleasure to work side-by-side, day-by-day with the staff of the communications and press departments."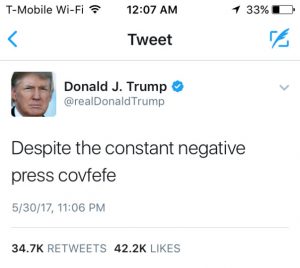 Rumors about the resignation spread quickly. A friend of the spell checker cited the ongoing chaos in the White House as the reason why.
"He was simply overworked." admitted his friend. "He was tired of always correcting the rambling, incoherent messages every day. Last night when he was asked to correct the word "covefe", that was the straw that broke the camel's back."
According to sources, the highly decorated spell checker wasn't too fond of the position when it was offered to him, but due to an overwhelming feeling of duty, he took the position anyway. He often referred to the position as a "shit sandwich".
Because of his recent resignation, the spell checker may be subpoenaed to appear in front of a Senate Judiciary Committee hearing on Russian interference in the 2016 presidential election for the possible part he played in correcting text messages.